GUIDE ABOUT DECENTRALIZED APP DEVELOPMENT FRAMEWORKS | Decentralized applications (D-apps) are the future of blockchain technology development. Since Ethereum introduced smart contract technology to create programs on the chain. It has become much easier (financially) for developers to test future applications on the blockchain.
Dapps open up a new frontier for decentralized software. Developers of such applications will be able to make the most of the blockchain's capabilities. It's namely security, community governance, and accessibility.
Ethereum is the largest, world-famous platform for writing decentralized applications. Recently, however, the platform's competitors have activated.
And they even began to make attempts. It helps to win back the title of the best D-apps platform from Ethereum. It's done with cryptocurrency exchange development services.
So, in the market for decentralized platforms, new participants are strong and ambitious. The platforms are still under development, so everything on the market may change at the most unexpected moment.
The faster blockchain technology develops, the more often the public blockchain is used. It helps to create some interesting applications. Let's take a look at what decentralized applications are. And on the basis of which blockchains they are created.
Must Read: The New Price of Bitcoin & Analyzation ( USD to BTC)
What are Dapps?
Centralized web applications like Facebook, Youtube, or Bolt run on an organization-owned computer system. They give the owner company complete control over the application. In contrast, Dapp applications are created on the blockchain.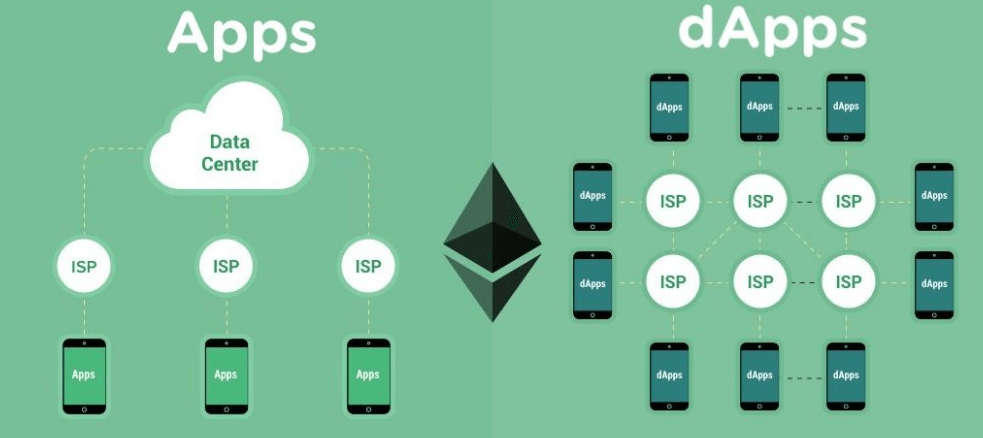 They work independently on the basis of smart contracts. Therefore, no central governing body is required. The application is community administered. It's protected from all kinds of censorship.
If you want to get an idea of ​​the motley ecosystem of decentralized apps, Stateofdapps.com lists over 3,800 different apps. It's from financial (Defi) to games and social media.
The cars need roads to drive. The decentralized application requires blockchain technology to support smart contracts. This is the market that Ethereum and other similar blockchain technologies are targeting.
The more applications join a particular platform, the greater the scale of economic activity on the main net. This, in turn, increases the value of the entire network.
Like the world's first cryptocurrency, Bitcoin, Ethereum is a pioneer in its field. It has an advantage over platforms that support smart contracts.
This means that the lion's share of applications runs on Ethereum. And it has a significant advantage among the most popular standards. It's used to create their crypto assets.
But with high fees on the Ethereum network still a problem. Competing blockchain technologies have more opportunities to attract new users. Some Ethereum users are already using Defi apps to migrate to other platforms.
According to a February report from decentralized app analytics company DappRadar. Ethereum's biggest rival is the Binance Smart Chain (BSC) blockchain. It surpassed Ethereum in terms of transaction volume in February.
It launched more new Defi apps with https://unicsoft.com/blockchain-development/supply-chain/. This was one of the reasons why Binance Coin (BNB) has shown a noticeable increase in the cryptocurrency rating.  And why it holds third place in market share behind Bitcoin and Ethereum.
If you have an idea to invest in the most famous blockchain technologies, then one of the most convenient ways to do this is the Change investment. And it's a trading application.
Change offers a choice of more than 20 different cryptocurrencies. They include well-known platforms. These are Ethereum, Polkadot, Cardano, Tezos, Stellar, EOS, Cosmos. As well as Algorand tokens.
The Change application is convenient and suitable for beginners. Because you can start investing from 10 euros.
Must Read: Best web development tools for beginners