PDF is widely used, not without reason. They are one of the most flexible files that are also not flexible simultaneously (we will explain later in the article). Due to its universal nature, we need to pay extra attention to PDF. Hence, we should always get the most helpful PDF Editor we can use.
In this article, we will review EaseUS PDF Editor and see whether they can get the job done or not.
Why is it important?
Who hasn't heard of Adobe Acrobat (PDF)? Because of its widespread use, the word has been ingrained in our daily lives. After all, PDF is commonly used for reference books, coursework, novels, and other similar documents. Because of its widespread use, we must understand how to manage PDF files.
The most common daily PDF usage is when we are sending official documents from one person to another. No matter what the original file is, it will be converted to PDF first then sent out. Why is that?
It is because of, as stated before, PDF's "inflexible" nature. His inflexible nature is since PDF cannot have its original content edited whatsoever. We might add new content over it, but the original remains unchanged. Due to this "inflexibility" of his, PDF becomes the most common file used for official documents. Thus, it becomes "flexible," as it is passed from one another quickly.
Must Read: Easy PDF Tips: Here's How to Convert PDF to PNG
However, its flexibility itself can also be an issue. Once we receive the file, there will be moments where we need to edit it. For example, we must add or revise the document once we receive the PDF file. However, we cannot edit it. What should we do?
This is where the PDF editor comes into play. By using PDF Editor, we can easily tweak PDF files however we want. Incredible, isn't it?
There are plenty of PDF editors on the internet. But in this article, we will be discussing EaseUS PDF Editor.
What is EaseUS PDF Editor?
EaseUS PDF Editor, as the name stated, is a PDF editing software that aids us in editing PDF. Not only can you edit PDF files with them, but you can also regard is as a PDF form creator to make a PDF from scratch and create your PDF out of nothing.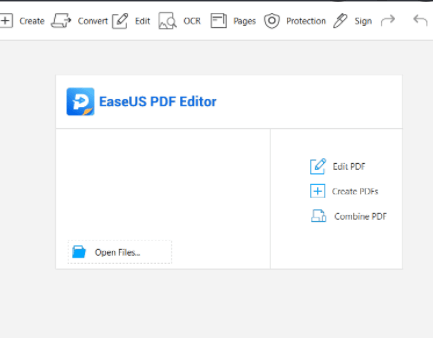 Here are some of their features you can't miss:
Tweak the PDF pages
Do you need to have the second page appear first? Or do you need to have the second page alone and take out the rest? If that's the case, then EaseUS PDF maker is undoubtedly the right tool for you.
One of the features of EaseUS PDF editing software is the fact that you can edit the pages according to your needs. By using the editor, you can add new pages or change their orders. If you need to remove the pages, you can do so. What about adding a new PDF file with the original file? Why, of course, you can! Users can do everything with EaseUS' PDF page editing feature.
Must Read:GogoPDF: Online PDF Converters You Will Need for Work
Convert from and to PDF
Conversion is one of the primary functions available. Although the program can convert PDF files to Microsoft Word documents, EaseUS offers much more. You can convert PDF to word, ppt, and HTML in addition to xlxs.
If you wish to convert your PDF files to pictures, you may use EaseUS PDF software. EaseUS allows users to convert PDF files to Bitmap, JPEG, PNG, GIF, and TIFF image formats. The flexibility of its conversion features enables you to convert as Microsoft Office files and other files you need at that time.
Must Read:Top 10 free online word document to pdf converters
Add form elements
Another feature of this PDF editing software is the fact that you can add different kinds of form elements to it. From checkbox to description box, all are available in this all-in-one PDF tool. All the user needs to do is upload the PDF file and arrange where they would like to add the PDF elements.
Protect files
If you use a credit card, then you must have received the digital bills in your email. They are, of course, in PDF files, but the files are also protected. You can add protection like that using EaseUS PDF maker.
OCR scanning
Last, it is also a free OCR software. OCR scanning is beneficial when it comes to transferring files from image to PDF. The more accurate the OCR is, the better. And in its case, they fall under the better category.
Why EaseUS PDF Editor?
Here are the reasons why EaseUS PDF Editor is great.
All features in one
From the features above, you can see that you have all kinds of features in one. Converting? It's there. Editing pages? It's there too. Adding new elements, such as texts, images, and element forms, can be done too. Even scanning is possible!
By using EaseUS PED Editor, there is no need for you to use another PDF editor again. Since everything is available in one software, you're saving time, disk space, and money.
Free trial
We have good news for you for those who want to have all the goodies without wanting to purchase the subscription: the free trial is everlasting. The company will never charge you unless you have clicked the subscribe button.
This means that you can get everything without having to spend a dime. The only setback is the watermark for free trials, but besides that, all is good.
Complete customer service
EaseUS PDF Editor has customer service you will never miss. They have all kinds of customer service, from emails to live chat. The chat is available 24 hours every day, too, so you can always contact them if you encounter some trouble using the software at work.
A hit or a miss?
EaseUS PDF Editor being a hit or a miss depends on the person, but it is undoubtedly a hit for us. It has everything in one, so there is no need to download other software for work. We can also check it first by trying the free trial before purchasing the software. We do not regret using this PDF editor for Windows, and we have a feeling the same will happen to you.