Did you know that one of the most extensive family searching libraries began in 1894 with a collection of 300 volumes? It currently has 453,000 digital books and 4.84 billion searchable entries. If you're interested in your own family background, creating a family tree is an excellent place to start.
A family tree is a graphic illustration of a person's ancestry, connecting links to common forefathers and mothers. Similar to an organizational chart in appearance, this diagram is often shown as a tree structure with a single person at the top.
From the top, branches are represented by lines that end in boxes that symbolize leaves. Each leaf symbolizes each single family member, complete with dates of birth, marriages, and deaths.
It's important to understand your origins. Family trees assist you in knowing your ancestors. Here's how to easily build one.
Must Read: 3 Tips When Traveling With Young Children
Create a Family Tree
A family tree may be as simple or as complex as you want. A basic genealogical chart will show from you to your great-grandparents. A complex family lineage chart will contain you,  to cousins and beyond.

You choose how far down the line you go and who you include.
Drawing Up and Planning for Your Family Tree
Before you start creating your family tree, you need to conduct some preliminary preparation. You may think of  the following questions:
Where would you want to start?
Does someone in your family have any information to add?
Which information do you wish to include about each birth, marriage, and death?
Do you wish to upload photos of your ancestors on each page? Where to get them?
Additionally, you may want to decide which direction you will design the tree. For example, family trees may grow horizontally or vertically.
There is no one way to draw up a family tree or what it should look like.
Must Read:5 Best New Year gift ideas for 2021
Gathering Family Information
Research your family's history. Use a family tree website to help you. Write down the details and locate images and documents. Then, search libraries and online resources to verify your family history.
It is difficult to get reliable records before the 1500s since they were destroyed by natural disasters, acts of war, and plain carelessness. Due to the scarcity of information, most family lineage sketches trace lineage back three or four generations.
Draft an Outline
Create an outline using all of the information you have. Begin by reaching from yourself to your forefathers. You can make a family tree freehand by drawing freehand or online using your computer.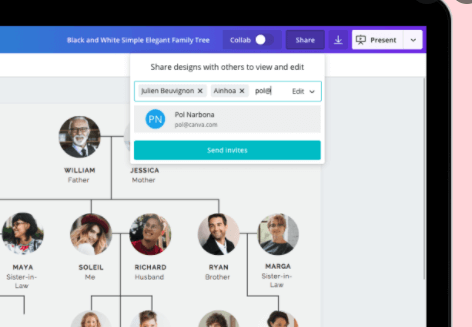 There can find its template from many available online, which you can customize with a few easy clicks.
Must Read: How business content writers rephrase the sentences by using paraphrasing tools?
The Simpler, the Better
Keep your family diagram basic if you want it to be helpful to other family members. By using a simple family tree builder makes it more simple and easily understood for your family to read.
As far as possible, have each level of the tree reflect a single generation to facilitate the process of tracing connections.
Share Your Family Tree
This is the enjoyable part!
After completing your family tree diagram, send it to your family so they may go through their family history. That way, they can also give any additional information.
Shake That Tree and See What Falls Out!
Let's face it. Everyone wants to know about their family. Where do we come from, and what is our bloodline?
The most effective way of visualizing your family is to create a family tree. We hope that we have shown what a family tree is and what you will need to create one.
If you have enjoyed this article, browse our page for more information regarding education, technology, business, and health.