The former CEO Jean-Claude Biver launched the Big Bang watch collection concept with an avant-garde style and contemporary elements. It is also from the production of Hublot, a Swiss watch brand portraying "the art of fusion," signifying the fusion of past and present in a futuristic watch.
Over the years, these collections succeeded beyond the company's expectations. It brings forth the innovation of the 1980s watch models. The Hublot Big Bang acquired the Best Design award at the Grand Prix d'Horlogerie de Genève because of its incredibly iconic designs with a contemporary touch.
The entire collection surpasses Hublot's traditions which provide an exceptional experience of innovation in watchmaking expertise. Today, Hublot Big Bang still reigns and lives with innovative minds, capturing congregations of watch enthusiasts all across the globe.
Is the Hublot Big Bang watch worth buying?
A Hublot Big Bang watch is in high demand with a well-known collaboration in various fields; it introduced a more creative design and groundbreaking styles.
The entire Hublot Big Bang collection has an excellent offer with your desired size, color, and style. Moreover, they are competitively priced with a reasonable effort to bring the brand's prestige to the market. It will not cost you a lot since it offers high-quality watches at a good value for your money.
This article will introduce you to various Hublot Big Bang watches and help you decide the worthiness of buying Swiss watches.
The Collection of Hublot Big Bang
The Hublot Big Bang has seven categories that uphold the revolutionary with an aesthetic style. These are Big Bang Original, Connected, Unico, Meca-10, Partnership, complications, and one click. Here are some of the incredible deals and features from the Hublot Big Bang collection.
1.  Big Bang Gold Ceramic Automatic Black Dial
The Big Bang Gold Ceramic Automatic Black Dial belongs to the Big Bang original collection. This timepiece showcases a bold and stunning color of gold and black. It has a 44m ceramic case with a frame of a black bezel and titanium screws.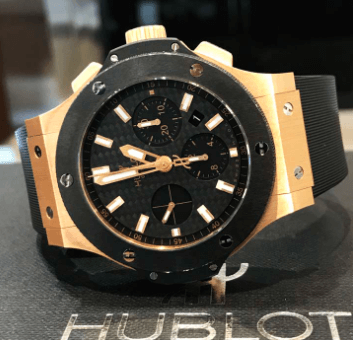 In addition, it is a polished solid 18k rose gold case. Bringing the industrial and contemporary design, it has a black carbon matte dial, gold-plated hands, and hour markers, striking re-colored seconds hand, date window, and three chronograph sub-dials.
The black-lined rubber straps are adjustable with a stainless steel buckle clasp for convenience in the wearer's wrist. Moreover, it is a reliable watch since it has a self-winding, 42-hour power reserve, automatic movement, and mechanism powered by Caliber UNICO HUB4100.
Indeed, it is a high-quality product because it is water-resistant, scratch-resistant, protected and covered by a sapphire crystal. It is available at the price of ¥2,332,273.
Read Also: What Are the Best Hublot Watches In the Market Today?
2. Big Bang Unico Titanium White 42mm Automatic White Dial Men's Watch
This timepiece is from the Hublot Big Bang Unico collection. It is aesthetically presented with a 42mm satin-finished and polished Titanium case to have a futuristic look.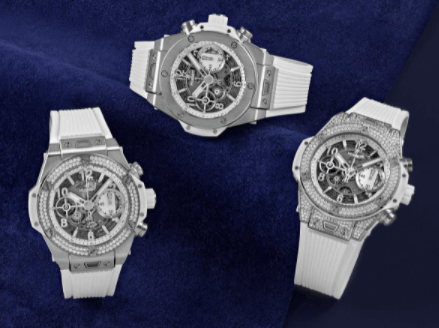 The diamond-embellished bezel adds a different concept to your fashion aura. Also, it has Arabic numerals and an index hour marker to give an elegant style.
This watch has a white-lined rubber with a secure buckle that allows you to wear this jewelry comfortably. This beautifully crafted timepiece is water-resistant, a 72-hour power reserve, and optimizes with a UNICO manufacturer's self-winding chronograph movement. It will be yours at the price of ¥1,471,728.
3. Big Bang One-Click Steel Rainbow
June is the happiest month for the members of the LGBTQ+ community; it is where all around the globe celebrate this event to acknowledge their presence and uphold the true meaning of this congregation.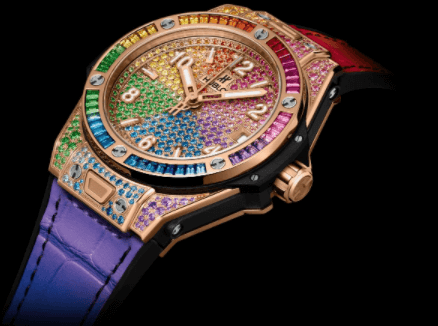 Rainbow color represents the unity of diversity and races among different identities. Like the new Big bang One Click Steel Rainbow, it has various standout colors representing a sophisticated and unique look.
It is a 39mm timepiece with a Satin-finished and Polished Stainless Steel Set with 118 Rubies, Pink Sapphires, Amethysts, Blue Sapphires, Blue Topazes, Tsavorites, Yellow Sapphires, and Orange Sapphires.
This stunning timepiece has black rubber and multicolored alligator leather straps with a stainless buckle clasp which gives it an extraordinary style. It is a reliable watch that operates a self-winding movement with 50 hours power reserve.
Read Also:Oris Watch Holds Its Own in the Watchmaking Industry
4. Big Bang Meca-10 Black Magic
This timepiece is perfect for a masculine look. The features of this watch are well presented, reflecting a brave and strong man. It is a 45mm watch with a micro blasted and polished black ceramic bezel with titanium screws.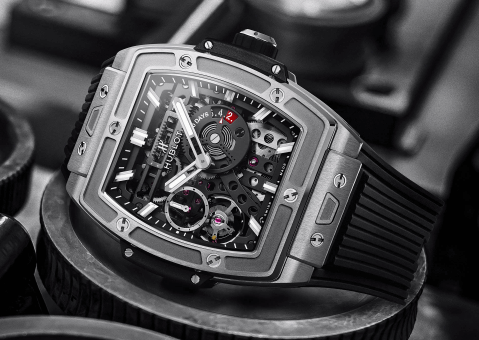 By looking at the dial, you can sense an aesthetic vibe with the matte black color. The strap is a lined rubber for your comfort and convenience.
Fortunately, this watch is worth purchasing since it has a power reserve movement that will run for ten days. You can have it at the price of ¥1,965,637.
Read Also: Top 5 Luxury Watch Brands to Buy From in 2021
Conclusion
Witnessing the elegant and sophisticated watches from Hublot Big Bang, they live in the name of the art of fusion. Bold colors will capture your soul onto it and treasure the value of these incredible timepieces.
I hope this article helps you in finding your desired choice. Don't miss an opportunity to glance at the entire collection. Check them at thewatchcompany.com.