Are you in the market for unique, high-end artwork and furniture? There are two major online platforms to consider: 1stdibs and Singulart. These two leading online art galleries provide customers with access to an extensive selection of original artwork from some of the most renowned artists around the world.
Both offer buyers a comprehensive range of artworks, but there are several key differences between the two. This blog post will comprehensively compare these two platforms to help you make the best decision for your home decor needs. Read on to learn more about 1stdibs vs. Singulart and decide which platform is right for you.
Main Differences Between 1stdibs vs Singulart: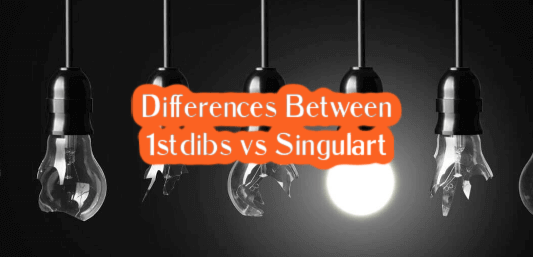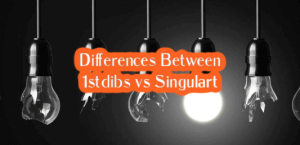 There is more than one key difference; however, when it comes to payment and delivery, 1stdibs offers more secure options. They have a robust security system that ensures your money is safely transferred.
Furthermore, their delivery process is reliable and fast. Singulart's payment and delivery systems are still developing, but they offer an easy-to-use platform for customers to purchase items securely. Here is a brief overview of the main differences between the two. These help you understand this discussion regarding 1stdibs vs. Singulart.
Price:
1stdibs offers a wide range of prices, whereas Singulart focuses on high-end pieces.
Selection:
1stdibs has an extensive selection of antiques, furniture, lighting, and art from around the world, while Singulart focuses solely on contemporary art by emerging artists.
Services:
1stdibs provides various services, such as curation and appraisals, while Singulart offers free consultations to help buyers find the perfect artwork.
Shipping:
In this compariosn of First dibs vs Singulart,1stdibs has a global reach, with shipping options available worldwide; Singulart ships artworks within Europe.
Payment Options:
1stdibs allows buyers to pay via PayPal and credit card, while Singulart offers a variety of payment methods, including bank transfers.
Return/Refund policy:
1stdibs has a generous return policy, with refunds available within 14 days; Singulart Tasks buyers to contact the artist directly for returns or refunds.
Pros of 1stdibs
Unique Collection of Items:
1stdibs allows you to purchase unique items you might have difficulty finding elsewhere. This includes vintage furniture, art, jewelry, and other rare finds.
Experts' Advice:
The website also provides access to experts who can help you find the perfect item for your needs. These experts have a vast knowledge of the available items and are willing to answer any questions.
Vast Selection of Selective Items:
1stdibs is an online marketplace specializing in luxury goods, providing customers access to some of the world's finest antiques, jewelry, artworks, and furniture. They have a vast selection of goods from all corners of the globe, making it easy for shoppers to find something special or unique.
Experienced Design Professionals:
This collection is curated by highly experienced design professionals who have an eye for quality items. Customers can be sure One of the significant benefits of 1stdibs is that it is a trusted source for antique and vintage items from over 50 countries.
Updated Upholstery:
They also offer a wide range of new, custom, and designer pieces to satisfy any taste. Additionally, 1stdibs offers luxury upholstery services by experienced artisans with decades of craftsmanship experience. This ensures that customers get the highest quality re-upholstered furniture with the perfect finish.
Personalized Concierge Service:
Finally, 1stdibs also offers a personalized concierge service to help customers find the perfect piece for their needs. This is an excellent option for those who want to explore different options and get a professional opinion on what would look best in their space.
Cons of 1stdibs
High prices:
The items on 1stdibs tend to be higher than other marketplaces due to the luxury goods and antiques sold there.
Limited availability of items:
Since many of the products are rare or one-of-a-kind, some may not be available when you need them. This can make it challenging to find precisely what you're looking for.
High shipping fees:
Some larger pieces may have high shipping fees, making them cost-prohibitive for some buyers.
Potential for scams:
As with any online marketplace, there is always a risk of encountering scams. It's essential to be aware of potential fraudsters and take steps to protect yourself.
Pros of Singulart
Convenient Platform:
The biggest pro of using Singulart is its sheer convenience. Not only does it allow you to store and manage your art portfolio online, but you can also directly sell your art to potential customers worldwide with the click of a button.
Secure Payment System:
Singulart also provides an efficient and secure payment system, with buyers able to pay via PayPal or bank transfer.
Easy Exposure for Artwork:
Singulart also makes it easier for artists to get their work seen by the public. With millions of visitors to the site every month, Singulart offers valuable exposure for artists and their art.
Easy Portfolio Sharing:
The platform allows artists to easily share their portfolios and works on social media platforms such as Facebook, Twitter, and Instagram.
Excellent Customer Support:
Another great benefit of using Singulart is customer support. The customer support team is always available to help.
Original Artwork Security:
Singulart is an excellent option for art enthusiasts and collectors looking to purchase original artwork from established or up-and-coming artists. With an ever-growing selection of artworks and categories, buyers are sure to find something they like on the platform.
Cons of Singulart
Relatively Costly Platform:
First and foremost, the cost of using Singulart is high. Depending on the services you choose to use, you may pay a significant amount for their services. This could limit some artists needing more funds to pay for these services.
Needs Promotion and Marketing:
Additionally, some art buyers may need to become more familiar with the platform. It might be challenging to reach a large audience without proper promotion and marketing.
Supports Selective Artwork:
Finally, Singulart only supports certain types of artwork, so if you specialize in something they don't support, you won't be able to use their services. It is also important to note that Singulart does not provide guidance or support for artwork creation or editing.
Final Thoughts
In conclusion, 1stdibs is the better choice for reliability and security. Singulart offers an exciting alternative for those looking for luxury items. But it still requires some time to develop its reputation.
Both sites offer great options for buying collectibles and antiques online. Overall, 1stdibs and Singulart offer unique options for art lovers looking to purchase and invest in beautiful works of art. Each platform has its strengths and weaknesses, and buyers should consider their needs when selecting the best platform.
More Stuff to Read: How to Design Your Home Yourself