Do you wish to enhance your skills in business analysis? Or want to learn new skills and get exposure to advanced level documentation and effective planning to create ideal business solutions. Then CBAP® (Certified Business Analysis Professional Course) can master all the concepts and techniques required to become a successful Business Analyst.
Let's have a look into what the CBAP® Course has to offer to you and how you can register for the course.
CBAP® Course Overview
This is an immersive learning program that helps learners to master the key business analysis concepts outlined in the BABOK® Guide v3. Participants through this course can gain advanced skills and identify themselves as leading members of the Business Analysis community. Moreover, the CBAP® Course prepares you with the CBAP exam with the courseware approved by the IIBA®.
Must Read: What are the Career Options for Criminal Justice Students?
How CBAP® can advance your career?
To achieve the greatest potentials for your business, CBAP® helps you to arm yourself with sophisticated business analysis abilities, as well as the newest tools and best practices in business analysis. This thorough Certified Business Analysis Professional Course test preparation is designed to teach you all the major topics that are related to Business Analysis and prepare you to pass the exam on your first try.
Moreover, this course helps to increase your confidence, streamline the massive amount of information, get an average annual income of around US$ 68,346, and get employed in big organizations in the world.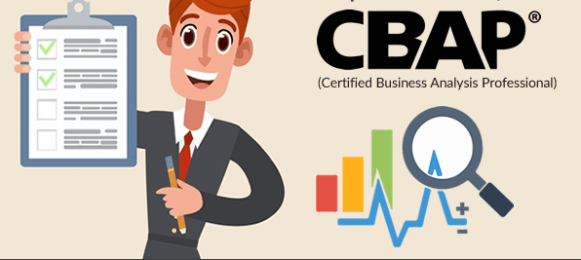 Course Features
You are provided with 35 hours of online training with a live instructor.
Can enjoy on-demand self-paced learning for 86+ hours
Go through case studies, mock tests, assessments, and quizzes.
You can earn 35 CDUs, 35 PD hours, and 35 PDUs
Have a comprehensive exam support
Get lifetime access to the courseware.
What CBAP® Course teaches you?
Gain a thorough grasp of Business Analysis (BA) and the various applications of BA.
Understand the function of a Business Analyst and the various job titles responsibilities.
Determine the six BACCM components, their relationships, and how they determine.
Learn about the six BA viewpoints and how to use BA from each perspective.
Master the principles contained in the third edition of the BABOK® Guide.
Understand the BABOK® Guide v3's six knowledge areas and ways to connect.
Learn 50 approaches utilized in the field of business analysis.
Learn four types of criteria and how they are related.
Designs and Requirements
Must Read:How to Get Started With Linux: A Guide for Tech Students
Steps to become CBAP® Certified
Improve your knowledge of business analysis procedures and ideas with IIBA® certificates. With the CBAP® Course certification, you can demonstrate your competence as a BA professional and get access to a larger range of career opportunities. Are you unsure where to begin your CBAP® certification? Simply take these easy steps:
Get your training

Check the eligibility requirements for the certification exam.
Get training under a reputed accredited institution and enroll for the course to attend the 35-hour training.

Sit for the CBAP® Certification exam

Log in with your credentials to the IIBA portal.
Schedule your CBAP® exam and take the test for 3.5 hours and answer 120 MCQs.

Become Certified

Pass the exam and download the CBAP® certificate to distinguish yourself as a senior, leading member of the business analysis community.
Must Read: Student Motivation Tips | Simple Ideas to Improve Student Motivation
Conclusion
So now that you have gained an understanding of what the CBAP® Course has to offer you. Get yourself registered for the CBAP® Certification exam and become a certified BA.