For teachers, having an engaging classroom is a must, and decorating a classroom can help with student engagement. Although some may believe that decorations can hinder student learning, there are many benefits to classroom decoration.
When decorated correctly, a classroom can help students feel safe, assist in achievement on exams and assignments, help build student confidence, and be fun for teachers. All of these benefits can help teachers and students alike have a successful school year.  
If you're looking to create a learning environment that benefits your students, Sproutbrite can give you all the supplies and inspiration you need. 
So, what are the benefits of classroom decorating?
Decorations that signify acceptance can help students feel safe
When creating a classroom environment that encourages learning, it's essential that students feel accepted and safe. This can be achieved with the words and actions of the teacher. Additionally,  classroom decor can improve a student's feeling of safety.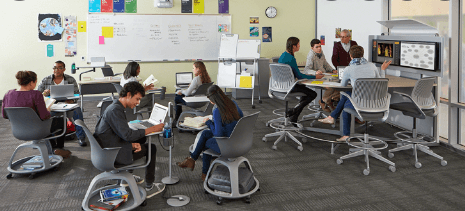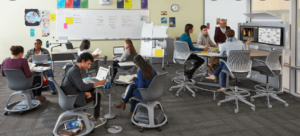 A study stemming from the University of Washington suggests that decorating a classroom with objects that signify acceptance aids students in feeling welcome in a classroom environment. When students feel welcome and safe, they have an improved ability to learn.
If you would like your classroom to help your students feel accepted, try finding decor that represents everyone. Banners and posters showing students of different genders, races, and abilities are always welcoming. 
Another option to emphasize acceptance in your classroom decoration is to display books that feature main characters of different backgrounds, center around different cultures, and talk about varying issues and occurrences that other people experience. 
Unsurprisingly, a feeling of safety is an essential factor in student learning. Decorating your classroom to make students with different backgrounds feel safe can hugely benefit learning outcomes.
Creating a comfortable space can help with student achievement
When tasked with taking a test or completing an assignment, it is much easier to find success when you're in a comfortable environment. A calming and familiar classroom environment can help decrease stress and increase focus. This environment can also be achieved with classroom decoration.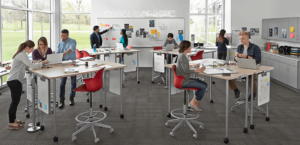 To decorate your classroom in a way that makes your students comfortable, try covering beige classroom walls with paper or posters in calming colors like blues and greens. Nature pictures, plants, and plush items like pillows and cushions can also create a comfortable space.
You also may want to try decorating the space with student artwork. When students see their artwork in your classroom, they may feel like they helped decorate it and make the space their own. Student artwork may help the classroom feel like a more familiar space.
Plain, beige classrooms can feel sterile and uninviting. This environment can make students uncomfortable and affect their ability to succeed in their learning. 
Luckily, decorating a classroom to make it calming and familiar can help students feel more comfortable and ready to achieve.  
Decorations that display positive messages can help students' confidence
Everyone needs a little encouragement every so often, especially students. Many students have negative self-talk that decreases their confidence and ability to succeed. Fortunately, classroom decoration can help to combat negative feelings in the classroom.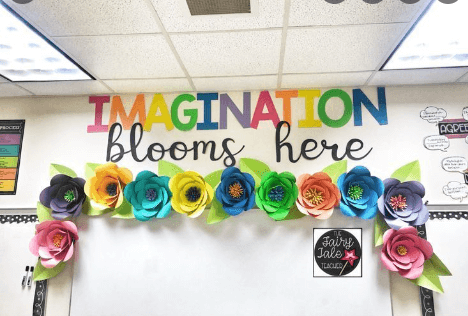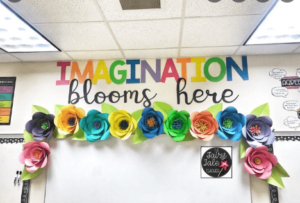 Teachers can encourage positivity and confidence building by decorating their classrooms with positive messages and affirmations. Some may find this type of decoration tacky. But, looking at an encouraging poster during a test may give some students confidence.
Posters with encouraging phrases are not the only way to spread positivity in your classroom. Supportive door decorations, borders displaying short affirmations, and nametags with words of encouragement can be excellent ways to build confidence.
The types of positive messages you use can also vary. Some teachers prefer long quotes or poems that contain helpful advice. Others prefer short phrases like "great job" or "keep it up." Depending on grade level, all of these can help build student confidence.
Many teachers have a common goal of building students' confidence in the classroom. Classroom decoration with positive messages and words of affirmation can help students succeed in school.
Classroom decorating can be motivational for teachers
In a classroom environment, teacher confidence and happiness are just as important as student happiness. Decorating a classroom can be fun for teachers and help to motivate them both before and throughout the school year.
Benefits of decorating for teachers before the start of school
Sometimes, transitioning into a new school year can be difficult. However, for some, the chance to re-decorate makes that transition a little more exciting and helps teachers feel more prepared before the school year and throughout its duration. 
Buying new decor, re-arranging the classroom, and putting new names on desks and boards can help ease uncertainty and build excitement and motivation for the year to come. It may also alleviate stress, as decorating helps some teachers feel more organized. 
Decorating a classroom at the beginning of the year can also help teachers familiarize themselves with student names. Many classroom decorations, such as chore boards and desk name tags, require teachers to write the students' names in their new class.
Decorations with student names can assist teachers in familiarizing themselves with the students in their class. Knowing a bit of information about your students beforehand can help take some of the stress out of the first day of school and motivate you through back to school.
Benefits of decorating for teachers during the school year
In school, season changes often come with new phases in curriculum, testing, or report cards. Changing classroom decorations for seasons can continue the beginning of the year's motivation throughout the school year. That way, mid-year slumps are less likely.
Before you go
Classroom decoration can have benefits for both students and teachers alike. In addition to being fun for both parties, it can help students feel accepted in the classroom, make a classroom feel more comfortable, build student confidence, and motivate teachers.
Hopefully, by decorating your classroom, you will notice that you and your students are happier and able to achieve great things this school year.