Corona virus (Covid-19) has affected every aspect of our life and likewise for billions of other people.  Corona virus quickly spread all over the world in a very short time and was declared a pandemic by the World Health Organization (WHO) which induced a sense of panic in people.
It was then made clear that Covid-19 spreads from one person to another and suddenly nothing was deemed safe. All the financial, governmental, business, agriculture, and industrial sectors had to be temporarily shut down with an exception of few businesses as they were considered absolutely necessary such as grocery stores, etc.
Like other sectors, the education sector was also greatly affected with almost over a billion students staying at home. Online education was quickly opted to stop the delay in education which brought in many difficulties for both students and teachers in the form of technological issues, motivation issues, etc.
Once the teachers and students got the hang of online learning they come to the challenge and difficulties of conducting exams online. Teachers had to now design exams that were friendly for online platforms and students had their fair share of difficulties.
Thesis Writing Services in Pakistan gathered a few difficulties faced by students, through research
Internet Issue in Online Exam
We all know that the biggest drawback of online learning and using online platforms for conducting online exams is the internet issues that arise for students.
Not everyone can afford a fast internet connection and thus difficulties with internet connectivity cause problems for students taking online exams. Nobody can ensure having no connectivity issues even if they have a proper internet connection.
Due to internet connectivity problems, students are questioned and often doubted if they are cheating when they are disconnected from the online platform because in most online exams students have to open their webcams and their movements are monitored.
Webcams and Microphones
As mentioned earlier, students are ordered to turn on their webcams and microphones which often make them uncomfortable and conscious because of their surroundings as they are at their home and it's supposed to be personal.
Also with all the family members being at home turning on webcams and microphones has been a challenge for students as they now have to be more aware and cautious of what is going on in their background.
Time Limit Difficulty in Online Exams
Getting a time limit in physical exams is sometimes not enough for students and is certainly a difficulty in online exams. Students are not used to completing their exams over the computer and this can affect their writing speed causing problems with managing time, and their overall performance.
A load of Assignments
An easy way of rewarding marks to students is to give several assignments and projects. Though it might be easier and favorable for both the students and teachers but one can't deny the fact that they are time-consuming.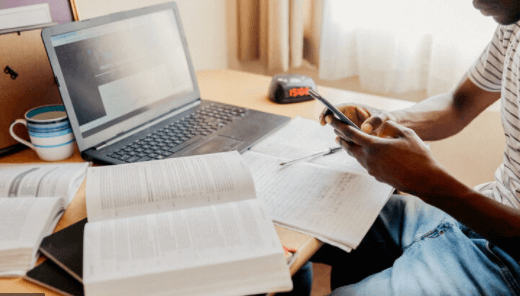 Getting assignments, projects, and presentations for every course can turn hectic for the students in no time. Managing all these requirements within due dates is not always possible because of which students face a lot of difficulties.
Modified Question Papers in Online Exams
Designing a question paper is not easy and when it comes to online exams it is even more difficult and for that teachers modify the questions in a way that requires extra attention and thinking from students.
These question papers allow teachers to avoid cheating to an extent but it undoubtedly becomes difficult for students.
READ MORE: