A black pullover hoodie is one of the most versatile pieces of clothing a guy can have.  It's both comfortable and stylish and can work for pretty much any life's situation and occasion.
That's right, from casual weekends lounging at the house to weekends hiking in nature to sophisticated nights in town living your best life, it's the ultimate garment!
So if you're looking for that one new piece of clothing to get in 2022, a black hoodie is the best way to go.  And here's how to style a black pullover hoodie for any situation.
Black Pullover Hoodie: From Athlete Gear To Designer Pieces
The hoodie was first produced in the 1930s and was worn by high-school and college athletes during lousy weather. The hood on the sweatshirt protected them from wind and rain.
Later this garment was adopted by various street subcultures like hip-hop and graffiti artists and skaters and didn't have a good reputation. For a while there, the hoodie was seen as either something you take to the gym or something "undesirables" wear.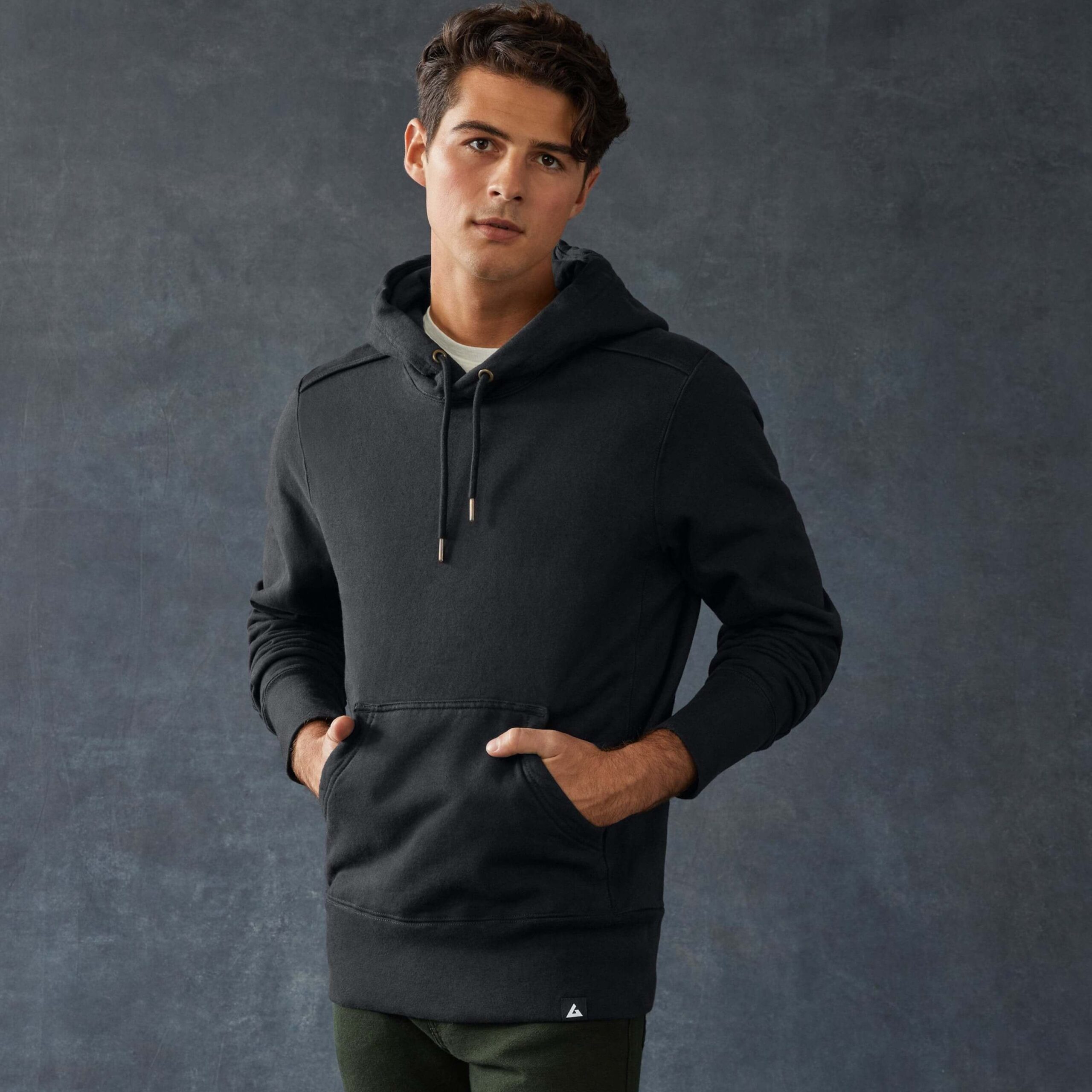 However, at the turn of the millennium, things have changed. For the last two decades, hoodies have taken the world by storm and are an everyday must-have.
The peak of their popularity probably was reached in the last couple of years and during the pandemic when comfort became the ultimate goal.
Today everyone has a hoodie, and most people have a black pullover hoodie too. High-end fashion designers sell them for hundreds of dollars, but you can also find incredibly high-quality, stylish pullover hoodies available for a much more affordable cost.
Must Read: Best Hiking Boots | Top 5 Best Hiking Boots Review [Updated-2022]
Casual or sophisticated? 
A black pullover hoodie can work for both casual and smart-casual occasions.
Casual
Simply pairing it with a pair of chinos, white leather sneakers, and a long coat or parka will create a stylish look for occasions like going to the pub or having lunch with friends.
If you're into casual sporty looks, pair the hoodie with black joggers, add an oversized puffer coat and a beanie.
Smart-casual
It is pretty easy to style a hoodie for a casual situation, but don't get discouraged from trying something more classy too.
Wear your black hoodie with black denim and add a long camel or checkered coat, plus Chelsea boots or Oxfords and voila, you're all class!
Here are some specific ideas of how to pair your .
With a bomber jacket
This one's a classic because it pairs the black hoodie with the street fashion staple, the bomber jacket. The best part? The black hoodie gives you a chance to choose whichever jacket color you like. We recommend dark denim trousers and sneakers to finish the look.
With a denim jacket 
This combination is super comfortable and very laid back. Opt for a shearling denim jacket on top of your black hoodie in winter and a simple regular jacket in summer. Wear skinny jeans or joggers as your bottoms and your favorite high-tops for footwear.
With a coat 
It takes not much effort to look stylish if you have a black hoodie and a long coat for winter or early spring.
You can opt for a single-breasted or double-breasted coat in brown, camel, or with checkers, as it will create a perfect look for the weekend in the city.
Wear dark jeans, simple slacks or chinos, boots, Chelsea boots, or your favorite sneakers to finish the look.
With a leather jacket
Okay, nothing looks cooler than a leather jacket! And paired with a pullover hoodie, it's a combination of comfort and style. You can go for a monochrome look and wear all black or choose a brown suede jacket for contrast.
We love skinny jeans for this look and some stylish polished shoes, but you can opt for chunky boots too for snow days!
With a blazer
Suits and button-down shirts are fine, but don't we all get tired of them sometimes?
Here's where a black pullover hoodie can easily substitute a shirt – simply swap it under your work blazer and enjoy a smart casual outfit for Fridays or even every day at the office.
To keep it on the formal side, make sure you have tailored trousers and shoes like Chelsea boots or black leather sneakers.
Must Read:Dye Black Hair Red | Ways to Dye Hair Easily
With a suit 
If you want to take your smart-casual look to the next level, wear your black pullover hoodie under a suit. There are a few guidelines, though.
Firstly, make sure the hoodie is fitted and not baggy; an oversized one won't look good and simply won't fit under!
Secondly, don't be dull and opt for something other than a black suit. There are some great patterned options and neutral yet stylish colors like olive or shades of brown.
Lastly, don't be afraid to wear stylish leather sneakers instead of polished shoes.
Accessories 
Listen, you don't really need too many accessories when wearing a hoodie, but if you feel like adding some extra flair, you can totally do it!
Consider a cap or a beanie (you can choose neutral or your sports team headwear).
For more formal wear, you can never go wrong with sunglasses, a high-quality watch, or a simple bracelet, and you can always play with a pocket square for your suit!
Shoes 
We've covered shoe options already but stick to something that looks good with the overall outfit and is comfortable as a general rule.
The most universal shoe is a white leather sneaker, but we're also partial to Chelsea boots and chunky boots as well as canvas sneakers. As for the no-no's, think sandals, flip flops, and over-the-top dress shoes.
Bottoms
Stick to the classics when styling your black pullover hoodie for your trouser choices. Casual outfits will look great with jeans (say no to ripped jeans, though), joggers, cargo pants, and cargo or chino shorts.
Smart-casual outfits will look best when paired with navy, grey, olive, burgundy chinos, classic slacks in neutral colors, or stylish wool trousers. Feel free to experiment, though!