SMARTWATCH APPS FOR SENIORS GUIDE | The smartwatch industry has come a long way since the introduction of the first-ever smart wearable in 2014. LG "G" definitely had a "wow" factor at that time. However, it wouldn't be an understatement to say that in today's ever-advancing world it's already considered a pretty archaic item.
Whilst the early smartwatch releases were all the rage predominantly amongst the younger communities, it's fair to say that with each year the percentage of people in older age groups that love the various amenities offered by these devices is steadily growing, too.
Is it because there are easier to use? That's debatable.
The main reason behind the growing interest in owning a smartwatch is the constant technological advancement and the addition of new features that make our life and getting through everyday chores that much easier.
In the last couple of years, many brands that dominate the smartwatch industry, like Apple or Samsung, have upped their efforts in developing apps that are particularly useful for the society of seniors and elderly people.
Considering where we were just a few years ago, some of the perks offered by those apps can easily make your jaw drop.
Smartwatches apps for Seniors: Most Useful Apps
The days of folks being amazed by the smartwatch's ability to track your hear-rate are long gone. Now every newly-released model can do that. Depending on the brand and the model, the list of functions can be endless.
Below find the top 3 that are highly appreciated in smartwatches for seniors.
1.  ECG (Electrocardiogram)
Although it's still highly advisable to seek professional medical help in case of any worries regarding the well-being of your heart, the ECG applications available in the top-end smartwatches are extremely accurate and can be life-savers at times.
The first watch to introduce the feature was Apple Watch 4. Nowadays, more brands have followed the trend and you can find the application in the Samsung Galaxy Active series, as well as in the Fitbit Sense model.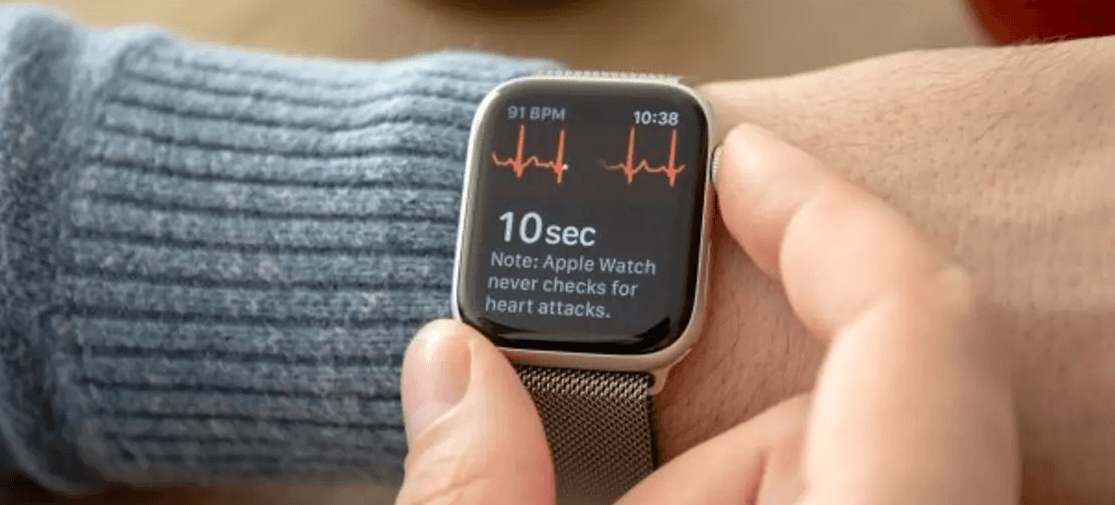 A fully-functioning ECG app, like the one available in any of the above-mentioned smartwatches, can help you determine early signs of a heart condition. For example, Apple Watch helped this man diagnose a widespread heart ailment of today's world, Atrial Fibrillation.
The Apple Watch has been a subject of many studies that reveal its high success rate in detecting heart issues later confirmed by real-life doctors. With each year, more and more smartwatches for seniors include the feature.
Must Read:Top 10 brands with best wrist watches for businessmen
2.  Oxygen Sensor
The oxygen saturation of the blood is another extremely important metric that senior citizens (and all of us) should constantly have an eye on.
Blood oxygen sensors employ light wavelengths to target your hemoglobin, the oxygen-carrying protein particle in your blood.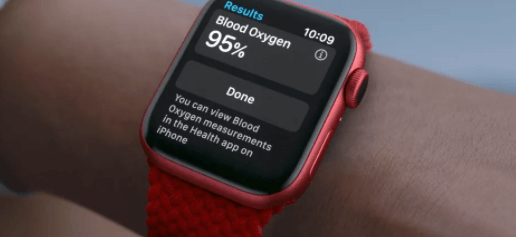 Depending on how much oxygen it carries, hemoglobin absorbs different wavelengths of light. The proportion of oxygen in your blood is represented by the numerical reading.
This technology has been miniaturized for smartwatches and placed on the back display of the watch to line up with your wrist. The rear of the watch has infrared green, red, and infrared LEDs that light through the blood flowing through the wrist.
The quantity of reflected light is then measured using photodiodes (devices that convert light into electrical current). This app is much more common than the ECG feature which is still used in just a few models due to FDA regulations.
Must Read:Top 5 Luxury Watch Brands to Buy From in 2021
3.  Fall Detection app
This is another excellent and relatively new feature that is steadily being added to more smartwatch models. If the smartwatch detects a heavy fall while you're wearing it, it will tap your wrist, sound an alarm, and show an alert.
By touching the Digital Crown, clicking Close in the upper-left corner, or tapping "I'm OK," you may contact emergency services or dismiss the warning.
If the watch detects that you're moving, it will wait for you to respond to the alarm before calling for help. Your watch will automatically make the call if it senses that you have been still for roughly a minute.
4.  Emergency SOS
The Emergency SOS function comes in helpful if a senior needs aid in any possible scenario.
It allows you to contact 911 (or another emergency number if you are outside of the US) for medical assistance with a single tap. The app notifies emergency personnel of your location to make the process as easy as possible.
Must Read: What Are the Best Hublot Watches In the Market Today?
5.  Sleep Quality tracker
It's not a secret that sleep is so important for the recovery processes of our bodies. This is especially crucial for elderly people.
The sleep trackers you find in modern smartwatches record your body movements as you sleep in order to determine how much time you spend awake vs asleep. Some devices utilize heart rate fluctuations to determine how much time you spend in each sleep cycle while you sleep.
6.  Mango Health
Last but not least in the list of smartwatch apps for seniors, Mango Health is another excellent app available in smartwatches for seniors that deserves recognition.
Daily reminders to take medications at various times are included in the app. By photographing their medicine containers, patients may self-report that they've kept on schedule.
They get additional prizes the longer they remain on track. Mango Health is now collaborating with a number of unidentified businesses to provide consumers with incentives such as magazine subscriptions, grocery discounts, and gift cards.
Must Read:Oris Watch Holds Its Own in the Watchmaking Industry