GUIDE ABOUT PACKING CHECKLIST FOR COLLEGE | Are you planning to move to your college for the very first time? Well, staying outside of your hometown for studies can be so much exciting and fun for sure. However, there are a lot of challenges that can come your way that needs to be handled efficiently.
The challenges and difficulties can be different, and so are the solutions. Staying far from your family and friends and leaving your comfort zone isn't easy at all. However, a successful move is necessary to overcome the initial emotional stress.
Relocation can't be successful if you fail to plan your upcoming move in a proper way. Undoubtedly, packing is an integral part of a successful move. However, if you fail to pack all the necessary items prior to the moving day, you can face a lot of difficulties.
However, keeping a categorically divided packing checklist can ensure a successful college move for sure. So, let's check them all so that you won't miss out on any during the packing process!
Bedroom Items Packing Checklist
The items in the Bedroom have great importance for sure. So, while packing your belongings, make sure to include the items below in your moving checklist.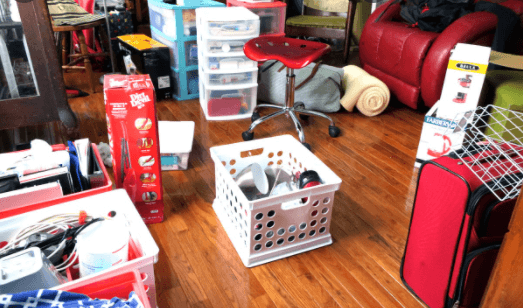 Bedsheets (Preferably three pieces so that you can use them alternatively)
Blanket
Pillows
Pillow covers
Reading pillow
Mattress
Tissue papers
Alarm clock
Under-bed storage (for storing multiple items)
Hand towels (Consider putting a name tag on each of them)
Bathroom Items
Once you have done with your Bedroom, now it's time to pack your bathroom essentials. Below are the bathroom essentials that you must not forget to pack.
Soap and Body Wash
Shampoo and conditioner
Bathing Towels (Consider putting a name tag on each of them)
Hand towels (Consider placing a name tag on each of them)
Shaving kit/ cosmetics
Hair/ beard grooming kit
Toothbrush
Toothpaste
Deodorant
Hairbrush
Toilet roll
Loofah
Cotton swabs
Bathroom cleaning products
Must Read: Top Tips When Trying to Get a Sports Scholarship
Health Items Packing Checklist
Well, you're visiting and going to stay in a completely new place. So, it is mandatory to keep the below heath items handy at the college dorm. In addition, it can prevent frequent visits to the doctor chambers as well.
First Aid kit
Prescriptions and prescribed medicines
Few common medicines (such as paracetamol, cough syrup etc.)
Mouthwash
Dental floss
Eye drops
Thermometer
Heating pad
Clothing 
Dressing in a well-mannered way has a vital role in your appearance. It can enhance your personality and even make you more confident.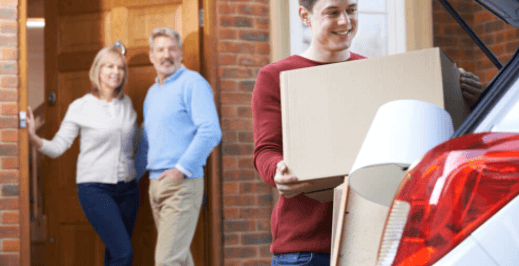 So, you must consider taking sufficient clothing for yourself, including seasonal clothes. Check out the below items for better transparencies.
Shirts
Trousers
Underwear
Innerwear
Shorts
Winter clothes
Slippers
Shoes
Sneakers
1 set of business clothes
Laundry Items
The college administration may not provide you with laundry services. So, you have to wash your clothes on your own. Taking your daily use cloths to the laundry service providers can cost you a lot. So, it would be better to carry the below items.
Clothes hangers
Laundry basket
Laundry detergent and stain remover
Mini sewing kit
Food and Snacks
Keeping a few dry food and snacks with you isn't a bad idea at all. Especially during the journey, it can satisfy your needs.
Plastic cups
Can opener
Popcorn
Chips
Sodas
Bottled water
Cereal
Butter
Jelly
Bread
Snacks
Dry fruits
Essential Décor Items
Well, you can take a few essential décor items with you as well. However, unnecessary décor items are not recommended to carry. You can take a few small décor items such as;
Your favorite posters and photos
Sticky wall mounts
Adhesive hooks. (Most of the colleges may not allow nails on the walls)
Light Weight Desk chair
Desk lamp
Floor lamp
Over the door storage hanger
Stepladder
Bulletin Board
Electronic Items
In these days of the modern world, it is necessary to keep a few essential electronic items that will eventually help you out for sure. Therefore, you must consider taking the below stuff with you.
Laptop and accessories
External hard drive
Mini portable speakers
Extension cords
Multi Adapters
Headphones
Camera
Smartphone
Must Read:Virtual Reality in Education
Shared Items — Check with roommate(s)
Well, there are plenty of shared items that you need to check with your roommates before you commence the packing process.
Audio equipment
TV
Coffee Maker
Microwave
Mini refrigerator (if not provided by the college administration)
Other kitchen appliances
College Supplies
You're moving for your further studies. So, a few essential college supplies are necessary to keep on your packing list. The items are;
Backpack for daily use
Course/syllabus books
Notebooks or Binders
Scientific Calculator
Books or E-reader
Essential Documents
Whether you're moving for your further studies or any other purposes, a few important documents are needed to keep handy during and even after the move.
ID Proofs
Bank details
Rental agreement
University documents
Other Essential Stuff
Well, apart from the above stuff, there are a few other essential items you will need for sure. However, you can't place them in any specific category; still, they are important for sure.
Umbrella
Sports equipment
Favorite Books
A small toolkit
Conclusion
So, we hope that you are now better aware of the packing checklist, which is effective for college moving. Taking all the mentioned items with you will ensure a successful college move for sure. Therefore, make yourself ready for the packing of the stuff mentioned above and ensure a successful college move.