GUIDE FOR VIRTUAL REALITY IN EDUCATION | A few years ago, virtual reality was talked about in the future tense, because the high cost of the technology did not allow its capabilities to be fully exploited. And although the first device capable of creating a full virtual reality appeared in the 60s, the technology has been able to really make a name for itself only recently with the advent of helmets for gamers.
Usage Importance of VR-Technology
The use of VR technology in training is very promising because now the students operate with a huge amount of information, the acquiring of which depends directly on the effectiveness of the presentation.
And there is no technology equal to virtual reality, which greatly improves and simplifies the educational process. While you are busy learning how to implement VR into your classes, feel free to contact Pro-Papers where professional writers will help you with any of your writing assignments.
Interact with objects and practice controlling skills of complex equipment, take tours of ancient Rome and participate in historical events, be inside the human body and study its structure, conduct laboratory classes and practical lessons in a virtual world – all this and much more is already available with the help of VR-based educational programs.
Must Read: What is Education Galaxy and its benefits for students
Advantage
The main advantage of virtual reality in training is the maximum involvement of the student in the process, which gives the highest efficiency result, so one lesson in the virtual world successfully replaces dozens of regular ones.
Specialists highlight the undoubted advantages of learning in the virtual world – clarity and safety. Due to the maximum degree of detail in VR, it is possible to show reliably what is impossible to see in normal conditions, for example, nuclear fission before a nuclear explosion or the process of volcano awakening.
As for safety, in VR-space we are not afraid of mistakes, the price of which in the real world are people's lives. That is why VR technology is actively used to train specialists in medical, military, and other spheres associated with risk, allowing them to get the basics of the profession and improve their skills on virtual simulators.
Lockdown has forced a creative approach to education, and those educational institutions that were able to invest in virtual reality have benefited greatly. Thus, their pupils and students were able to fully experience the benefits of virtual and augmented reality education.
Must Read: Data as a Service for MBA Candidates
Examples of Virtual and Augmented Reality Applications in Education
VR and AR in education have gained ground. Many schools and universities were using it as a reinforcement even before the pandemic. Let's take a look at how some educational institutions have incorporated VR into their curricula.
Virtual Reality in Schools and Supplemental Education
Virtual reality education can be divided into three groups: videos, platforms, and programs. Let's take a closer look at each of them.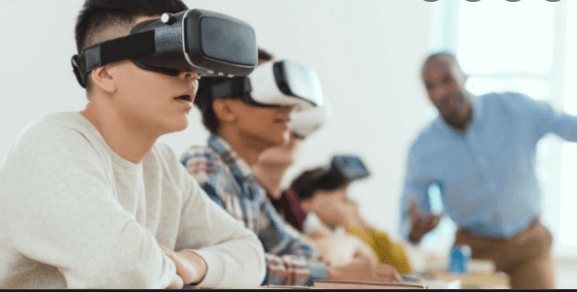 A 360-degree video takes place through interaction with special virtual reality glasses, and a special program translates 2D images into a 3D format, i.e. adding volume to them.
With the help of platforms and platforms such as Rumii, it is possible to create a virtual educational environment. Thus, they can attend lectures and workshops.
The advantages of the above-mentioned platforms are that they give the opportunity to organize a full-fledged interactive. For example, at a French lesson, you can organize absolutely any situation (a flight on a plane, a walk, etc.) in order to learn new words together with the class.
Must Read:Benefits and drawbacks of classical education
Interactive educational products appeared quite recently, however, even today they can be used both in the lessons and when doing homework.
The VR Museum of Fine Art program allows you to visit museums around the world, and the Human Anatomy VR app lets you explore the human anatomy.
Educational programs based on virtual reality are bundled into packages for user convenience. Schools can purchase a ready-to-use RedboxVR kit, which contains all the most necessary VR developments for secondary schools. This educational format can also be used in additional education (circles, sections, hobby clubs). In this way, virtual reality in education is very beneficial.
Virtual Reality in Higher Education
The contribution of VR to higher education cannot be underestimated. It allows students to learn by experience, bringing 2D objects to life and exploring what would be extremely difficult and dangerous to do in the real world. VR opens up new ways to learn skills and allows you to do it quickly.
One example of the use of virtual reality in higher education is to teach elementary skills to students. VirtualSpeech, for example, allows students at many foreign universities to improve their communication skills.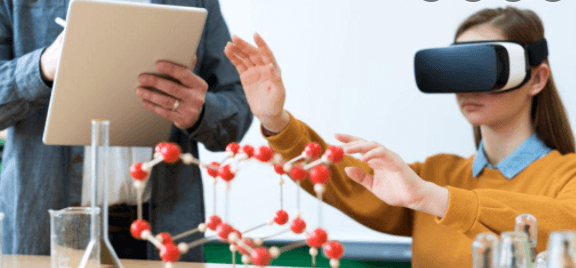 The application allows students to analyze speeches and prepare them for conference speeches and interviews. Teachers around the world use this app to improve students' skills.
VR has also become firmly embedded in the field of distance learning. Even before the pandemic, many institutions of higher learning in Europe and the United States were allowing students to enjoy VR lectures.
Apps like online chats allow you to project yourself and interact with professors and other students.
Another great example of the use of virtual reality is the University of Westminster's course for forensics students. Using VR, students were able to find evidence, create a case file, read witness statements, etc. VR provides an unprecedented experience in very narrow and necessary topics.
Must Read: Importance and benefits of education
Virtual reality equipment in training
It is impossible to explain technical, medical and many other specialties in a few words: you need constant practice and immersion. But in order to study the industry specifics, you can take advantage of the tools that the virtual reality field offers us.
In today's market, there is a huge amount of equipment that can immerse a person in the world of virtual and augmented reality. It differs in functionality and cost, and each has its own advantages and peculiarities of use. Let's consider the most popular and reliable models.

This system was specially developed for interaction with Google Expeditions. With its help, it is possible to conduct real virtual tours around the world.
Also, the development suggests that you can record a 360-degree video yourself. The advantages of the system in centralized management, quality, and durability, however, it does not know how to recognize gestures. Redbox VR costs $2,900 to $3,000 for a group of up to 8 students with portal access for 1 year.
Google Cardboard
It is a box with two lenses, and you only need a smartphone to use it. The cost of the device starts at $10, depending on the package.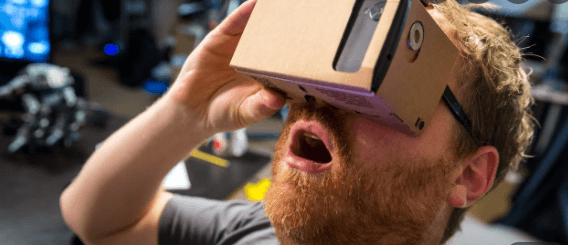 Virtual Reality in Windows Mixed Reality Education
This system is an augmented reality platform that only works with Windows 10 devices and a set of headsets.
You can also find a lot of free content that VictoryVR creates. The cost per system is $300 to $400.