Once you've decided you're going to open an online sales business, be prepared to make important decisions right from the planning stage. The successful operation of e-commerce and stable income will depend a lot on this stage of your strategy. It is not only about what products and services you will sell to customers, but also about choosing the suitable model of your business.
However, be careful when planning the opening of e-commerce, do not make unacceptable mistakes, immediately resorting to small and insignificant details and forgetting the basis — what exactly you offer people and what model will help you in this. So if you do not know how to choose a business model and start your e-commerce business, contact IT Delight professionals, they will find a suitable solution and help you grow your business from the planning stage.


Your choice will depend on several factors: the type of product or service to sell, the market, and your budget. Some business models can satisfy your business 100%, and some will be completely inappropriate, and even vice versa. So that you do not make a mistake and you do not have to start all over again, you must understand the specifics of each model.
They have both pros and cons, the knowledge of which will play into your hands in the process of running a business. If you want to get familiar with eСommerce business models so you know what decisions to make from the get-go, then this article is for you.
Let's start with the base — with the definition. A model of your business is a strategic plan that defines how you will conduct the online trading process. Typically, an it describes how to reduce operating costs and increase profits, as well as clearly defines the roles of each person involved in the business.
Many eСommerce business owners simply don't know where to start or what business model options they can consider. We have listed for you various business classifications and models based on which you can develop your business.
E-commerce Models by Members
B2C. This is the model you should adopt if your products or services are people first. A potential customer finds your website and decides if they want to buy what you are selling.
B2B. If the nature of your products or services is business driven, this business model is for you. Networking and communication are a big part of this strategy.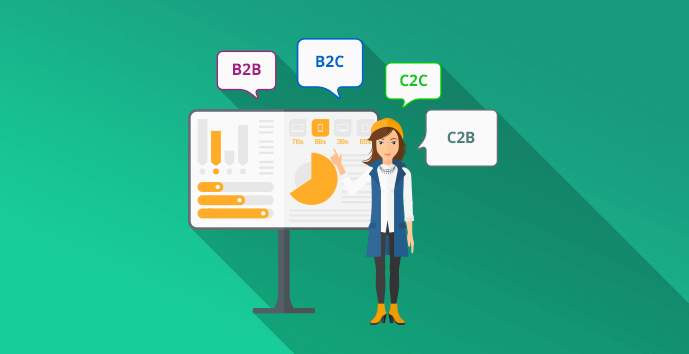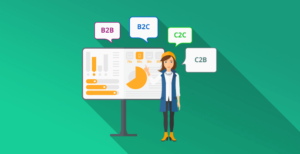 C2B. This is another great concept that is popular mainly due to freelancer-focused platforms. It implies that a consumer sells his goods or services to a business or organization.
С2С. This is a concept unique to e-commerce. The website helps consumers sell their items, such as residential property, cars, motorcycles, etc. The website may or may not charge the consumer for a listing service.
C2A. This model illustrates the relationship between the individual and the state and describes the sale and purchase transactions between the consumer and the public administration. An example is the payment of taxes.
B2A. These websites are used by the government to trade and exchange information with various business organizations.
E-commerce Models by Income Type
Dropshipping 
Dropshipping is one of the most popular, attractive, and promising business models today, the main advantage of which is to make a profit almost without investing financial funds — you don't need your own retail space or warehouse, and you can even never see your suppliers and buyers, and do not bother with inventory or logistics. An online store receives goods from a wholesaler or manufacturer and sells them to visitors for a commission. For example, you have an online store where you add cheap products and set prices at a higher level.
Private labeling and contract manufacturing
In an environment where the online marketplace is flooded with generic products, finding branded products from manufacturers and branding them allows you to create a distinct brand. This business model is best suited for online merchants doing dropshipping and wholesale product labeling business. Those who sell private label products have significant control over the branding and pricing process. Scaling such a business is easier.
White label
This is a collaboration model in which one company makes a product and another sells it under its brand. Such goods or services are purchased without branding, and you design the product yourself in a corporate style, creating labels, emblems, etc., so that consumers associate it with your company. Since you are buying a ready-made solution and cannot influence its quality, it is important to choose a reliable partner who has a good reputation in the market.
Subscription
It is based on the idea of ​​selling a product or service for monthly or annual recurring subscription income. They are focused on customer retention. Essentially, subscription business models focus on a way to generate revenue in such a way that a single customer pays multiple payments for long-term access to a product or service.
From the outside, it seems that subscriptions are a universal solution for any business. But this model of monetization is not suitable for all companies. For example, online cinema subscriptions work because people watch movies and TV shows every day. And it is rather not worth entering a service subscription for long-term real estate rental.
Also Read This: Global E-Commerce: What You Need to Know in 2022
Wholesaling and warehousing 
Many e-commerce stores have warehouses where they store products. Then they are placed on lists in online stores, and when a person buys them, they are shipped directly from the warehouse. In contrast to retail representatives, wholesalers work with impressive volumes of goods, and a large assortment, and cover a wide sales area.
Despite the apparent difficulties, experts call the considered niche favorable for a start. This is facilitated by the absence of fierce competition, and fairly moderate requirements in terms of resources. At the initial stages, the owners of business projects are limited to a minimum number of employees, without colossal investments in marketing. Wholesale customers are industry professionals who do not need to explain in detail the functions, characteristics, and benefits of using the product.
Final Thoughts
So, now you know that there are a large number of e-commerce models, each with its own set of terms, rules, drawbacks, and benefits. You need to analyze your business and choose the right model that would perfectly fit your business. For this, we recommend contacting professionals who will advise you and share their experience in this area.