Tips of Description Writing: Many people think that high-quality photos speak for themselves. But the online space dictates its own rules, where a high-quality description warms up the attention of users to the photo. What's more, it is a powerful sales tool, which allows you to successfully promote your photo and become a popular photographer.
But how do you create such a magical description that is like a spell to make the user look at your photo for hours? We know no spells, but we know how to write a photo description that will work. You need to just follow the four tips below.
The Importance of Description Writing in the Photo Industry
You may like it or not, but even photography requires its packaging to be sold. The description is just such a package that helps photographers to correctly present their photo and successfully promote it.
Unfortunately, today you cannot do without this, since the Internet dictates its requirements and if you ignore them, then becoming successful in the online space can be very difficult.
Description writing which is familiar to many from your student years is what you need. What's more, a creative but still meaningful description of your photos opens up the following opportunities for your photography business:
A correct description allows you to promote your photo on the Internet. If there is a description, your photo may be found due to keyword matches. Enter any request in Google and go to the photo section. Photo search results are as relevant as text. Therefore, this will be a good advantage for your site, as through photos you can get traffic to your blog.
The skill to create descriptions allows you to successfully promote your photos on photo stocks. Go to popular photo stock sites and see how queries work. You will probably notice that many of the photos do not match your query. Therefore, if you create a description of the photo properly, then you have an increased chance that your image will be chosen by users as it will match the users' requests.
A high-quality photo description allows search engines to rank your photos on the Internet. High-quality photo descriptions are better visible to search engines, they are promoted and shown to your prospective leads more frequently. Yes, creating an SEO strategy is a must-do in this industry too.
Therefore, if you previously thought that your photo speaks for itself and does not require any words, it's time to change your approach.
Indeed, it may be that your photo does not need additional words, but these words are needed by search engines that will promote your creations in the Internet space.
But what if description writing is not your strong point and in your student years you solved this problem with the help of a custom writing service review site Online Writers Rating? Don't worry, this task is much easier than those you have dealt with in college.
This is not as difficult as writing a description for a real estate object or any other thing with a lot of details and specifics. You just need to write a couple of lines to nudge your audience to the right opinion.
5 Description Writing Tips in Photo Industry
Below you will find 4 tips to help you create a description that will emphasize the professionalism of your photo.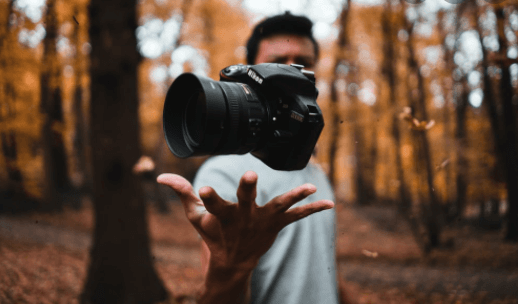 1.   Create a Simple and Understandable Title
When it comes to describing your photos, the title plays an important role here. Someone comes up with titles for photos that are too romantic and, as a result, they are not popular.
However, do not forget that not all users have such a sensitive inner world to appreciate the romance and hidden meaning that you put into your photo.
Therefore, if you want to come up with a romantic name, then do not forget that it must necessarily convey the essence of your photo. Thus, try to focus on accuracy and simplicity. For the Internet community, this is exactly what you need.
2.   Follow an Effective Formula for Description Writing
For each photo, it is recommended to use this object-action-context formula to create a great description for the photo. These three elements allow you to make your description objective, informative, and concise. What are they about?
Object designation: An object should be understood as the main thing in your photo that the user should pay attention to.
Action designation: Next, you need to define the action of the object and describe it. Action can mean not the direct action of what the object is doing, but what is happening in the photo.
Context designation: Context refers to the environment of an object. Here you can try to convey the atmosphere of the photo, emphasize the main object.
Here are some examples of what a succinct description looks like according to this "formula". Let's describe this photo.
Object: Ancient Book.
Action: Lies.
Context: On the table.
This is often exactly what is needed to create a working description. Since you are creating a description for a photo, not a description for a music band, you need to leave the user with food for thought.
The audience should form their own opinion about the photo, but your description should provide the necessary direction and background information. This is also the perfect way to describe a custom link the users may follow to buy and download your photo.
Over time, when you understand how your audience is reacting to your content, you can play with meaningfulness. But in order not to stay on the right track, follow the golden mean, make the description short, capacious, but still meaningful. After a while, you will be able to understand what is right for your audience and then adjust all these points.
Read Also:Top 10 Online Photo Editors to Use in 2021
3.   Be Careful with the Details
Surely, you may add some details to such a description to draw a brighter picture. But note that a more complete description is not always a better option. Here's an example: An old book is on the table. The table is dark; the pages of the book look old and the text is written in Sanskrit…
Agree, this description makes thoughts run chaotically and confuse. This can confuse the user. What if you need a brighter description? Start your description with a short "formula".
And then you can "spicy" text with details. The first laconic sentence will evoke the necessary understanding among users, and then the details will warm up the atmosphere.
Read Also: Top 10 Best Portable Photo Printers Review
4.   Proofread Your Description
When you prepare the description according to the above recommendations, you need to check the text for mistakes and also consider options for optimizing the text.
In a creative impulse, many tend to write in complex forms and use strange words. All this can complicate even very short text.
To avoid such a situation, you need to turn your attention to the online tools that are used by the best essay writing site Best Writers Online.
We are talking about such writing tools as Grammarly with which you can check even a very short text for mistakes and the Hemingway App which allows you to simplify the text, get rid of complex sentences and improve readability.
Read Also: The Ideal Word Count Of A Blog To Rank On Google
The Bottom Line
Agree, writing a description for your photo is not such a difficult task. Use the tips above and see what results you get. There is no doubt that they will be positive and will allow users across the globe to find out more about your talent and creativity.