Unlock PDF File Guide: Nowadays, PDF has become a lot more popular because of this generation's pandemic situation. Not only are companies doing work from home jobs but students are doing a lot of online homework too which involves the usage of PDF.
Just a year or two ago, there were a lot of paper documents that needed to be accomplished. Our current situation developed a lot of technologies that require an online application.
That is why this article entails giving you a heads up on what PDF application to use. A good application must be convenient, safe, and preferably free. So, let us go over one of the most popular PDF tools for us to be fully aware of what this online tool offers.
Remember, there are a plethora of documents today that are processed online. It requires many of our online accounts and documents to have their own password for security purposes.
However, because of busy days, we cannot remove the times that passwords are forgotten. Keep reading to know more on how you can easily unlock your PDF files with a great online tool called "PDFBear."
What is PDFBear?
This is a very popular online conversion tool that allows us to convert files from and to PDF and edit PDF files. It is a very efficient tool that helps us manage our documents without having to open multiple applications to do it.
PDFBear offers a lot of options for your convenience. Some of them are: Converting PDF to Word, JPG, Excel, PPT, PNG and PDF/A, and vice versa; Compress PDF, PDF Converter and Repair PDF, Splitting and Merging PDF; Unlocking PDF, Add Watermark, eSign PDF and Protect PDF, and many more.
Read Also:Top 10 free online word document to pdf converters
It will definitely be very useful because of the number of online services that it can offer. Users will not only appreciate PDFBear because of its numerous features but also because of its PDF Unlock feature which we will also explore in the next discussions.
Unlock PDF File Feature of PDFBear
One of the most known and used features of PDFBear is the unlock feature which also eliminates password-protection not just from our own desktop but on any device.
Time is not a problem because it immediately fixes your problem with unlocking a PDF that has a password with just a few clicks. See? Unlocking PDF is that easy with PDFBear especially because it only takes three steps away.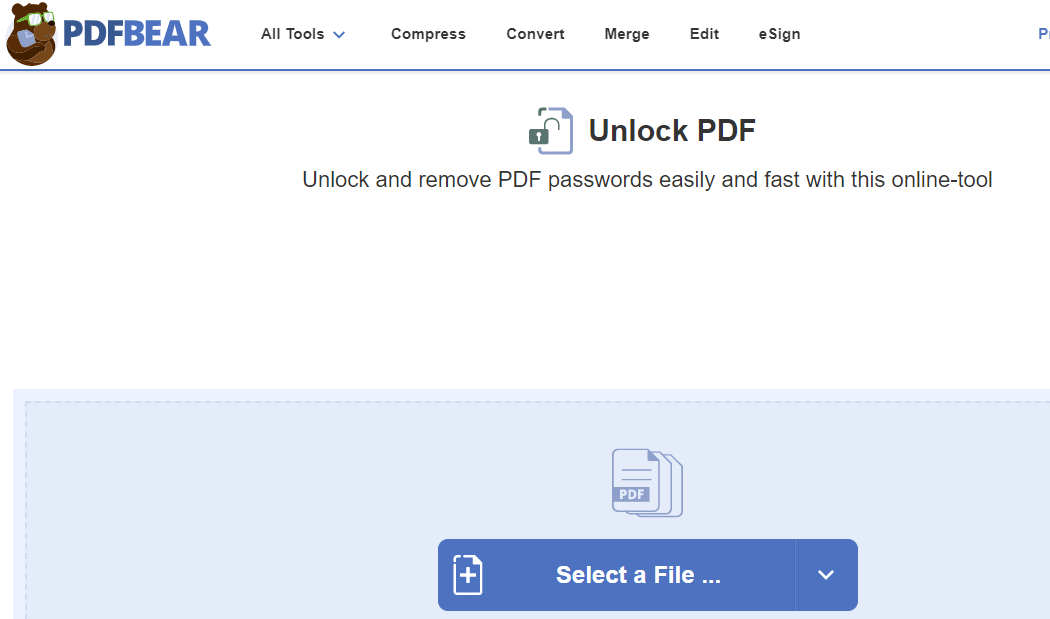 You don't have to have any application tool that you need to download. Just visit their website directly and just follow the given instructions, and it works like magic!
You can use the unlock feature anytime, anywhere but make sure you have a stable internet connection to avoid delays in decrypting password-locked PDF documents. That is why this is the highlight of this online tool.
Steps on how to use the unlock PDF File Feature:
First, you just have to select PDF from your files and then drag and drop the selected document in the PDF Password Remover area.
Our online tool will process removing the password and decrypt the document. And then it will start the process, wait until the process is finished.
Once done, just download the successfully unlocked PDF file to your computer or device!
It's that easy, and you saved a lot of time with no hassle. Who said that handling this password-protected PDF file could be this easy?
We can definitely say that it is very useful for users who are forgetful with their passwords in their PDF documents. PDFBear will keep everything just the same in your PDF document, all the information will be the same after we have removed the password.
The only change is that there will no longer be a password, that's the best quality that you can get in using the PDFBear Online Tool—Password Remover.
Read Also:Top Free Online Plagiarism Checkers Alternatives of Copyscape
Assurance of Security
You may feel doubtful to use an online tool to fix your PDF documents which can absolutely be understandable. It's because there are a lot of online applications that are fraudulent in nature and not only that, fraudsters easily hack confidential documents.
But no need to worry because PDFBear is 100% safe because once you successfully saved the decrypted PDF file on your laptop or desktop or even your mobile device.
PDFBear online tool will delete everything on its website after one hour permanently which means this will avoid any fraudulent use and you will be assured that your uploaded documents are safe.
Let me just remind you that for this to work efficiently, make sure that you are in a place where there is a stable connection.
Takeaway
Password–locked PDF files unlocking has never been this easy because once you go to the PDFBear website, you can find it easy to understand.
Good thing that PDFBear is 100% safe and free to use especially at times when we need it at once. Users' documents are treated with utmost confidentiality and privacy and work in accordance with the customer's data privacy policy.
Read Also:Best Plagiarism Checker Available Online (Free and Paid)
And not only that, it is very much compatible with most of the major operating systems such as Linux, Windows, and Mac and you can search their website through Internet Explorer, Firefox, Google Chrome, and other famous websites.
If you have problems with unlocking a PDF that is encrypted with a password, then PDFBear is definitely the right tool to use. It is not only 100% easy to use but this helpful tool is free of charge!
Read Also: Best 6 Solutions To Fix [pii_email_8c96c1c23f5914dd67d1] Email Errors